Arnold Schwarzenegger Mugshot ?
Arnold Schwarzenegger's Mistress Mildred Baena — She'd Wear Maria's Clothes & Jewelry, Sleep In Her Bed.
Arnold Schwarzenegger The Muscleman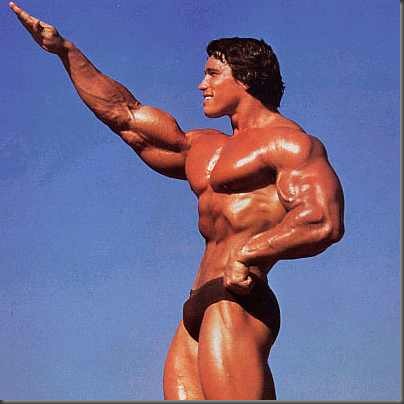 Some of his naughtier moments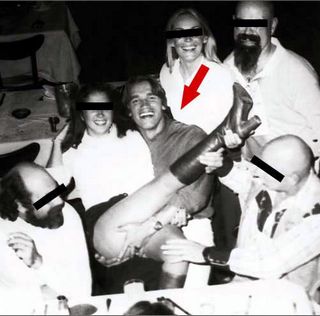 Once considered the most 'beautiful' man !
And of course, how can we forget his trademark image … The Terminator ?
Secret Love Child: Arnold's Double Life
The inside story of Schwarzenegger's love child he kept secret for ten years.
Believe or not ? Even his T-Shirts charted record selling numbers …
Arnold Schwarzenegger – Political Sex Scandals Sell (T-Shirts)!
Former Governator Arnold Schwarzenegger may be embroiled in a hot-this-minute hullaballoo over a child he fathered with his maid, but so far he still can't beat former President Bill Clinton when it comes to (consumer) appeal — at least according to one purveyor of scandal mementos.
The CafePress website reports that "although Arnold's affair-themed merchandise has been available on CafePress for less than a month, it already makes up 4% of all political sex scandal T-shirt sales on the site."
"Arnold Is My Daddy"
Wiki Bio
Arnold Alois Schwarzenegger (born July 30, 1947 in Thal, Austria) is an Austrian-American former professional bodybuilder, actor, model, businessman and politician who served as the 38th Governor of California (2003–2011).
Schwarzenegger began weight training at 15. He was awarded the title of Mr. Universe at age 20 and went on to win the Mr. Olympia contest seven times. Schwarzenegger has remained a prominent presence in the sport of bodybuilding and has written several books and numerous articles on the sport. Schwarzenegger gained worldwide fame as a Hollywood action film icon. He was nicknamed the "Austrian Oak" and the "Styrian Oak" in his bodybuilding days, "Arnie" during his acting career and more recently the "Governator" (a portmanteau of "Governor" and "Terminator").
As a Republican, he was first elected on October 7, 2003, in a special recall election (referred to in Schwarzenegger campaign propaganda as a "Total Recall") to replace then-Governor Gray Davis. Schwarzenegger was sworn in on November 17, 2003, to serve the remainder of Davis's term. Schwarzenegger was then re-elected on November 7, 2006, in California's 2006 gubernatorial election, to serve a full term as governor, defeating Democrat Phil Angelides, who was California State Treasurer at the time. Schwarzenegger was sworn in for his second term on January 5, 2007.
On May 16, 2011, it was revealed that Schwarzenegger had fathered a son ten years earlier with an employee in their household named Mildred Baena, leading to his separation from his wife of 25 years, Maria Shriver.