Former porn star aims to clean up Italian politics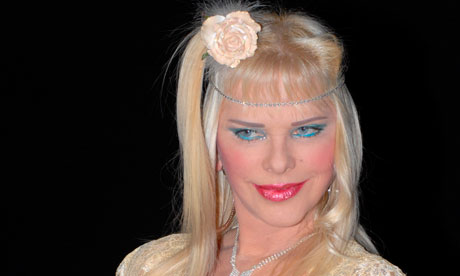 Ilona Staller, better known as Cicciolina, says she is entitled to the Euro €39,000-a-year pension after serving as an MP. Photograph: P Anastasselis/Rex Features
Ex-Italian Porn Star Eyes New Political Party‎
"We want to set up an optimistic party of the future. Enough with these parties of profiteers, vote-selling, tenders and corruption!" the Hungarian-born Italian – real name Ilona Staller – told Oggi magazine.
"We're thinking of a party of honest people: against the military and in favour of the rights of the weak," said the 59-year-old, who became notorious for delivering campaign speeches with her breasts exposed.
"I would go among the people to listen to their problems," she said.
Cicciolina entered politics in 1979 as part of Italy's first environmentalist party, before joining the Radical party in 1985 and campaigning against nuclear energy, world hunger and human rights.
She was a member of parliament between 1987 and 1991.
In September 1990, at the outset of the Gulf War, she said she was "ready to have sex with Saddam Hussein" in order to restore peace in the Middle East.
The skimpily-dressed buxom blonde has achieved celebrity status in Italy and abroad, where she regularly appears hugging a teddy bear on front pages.
Her plans for a fresh take on politics come two days after a senior Catholic cardinal condemned Italian leaders whose behaviour violates public dignity, stopping just short of naming prime minister Silvio Berlusconi.
Italy's premier is accused of paying for sex with a 17-year-old pole dancer and members of his cabinet are caught up in corruption and sex scandals.
Cicciolina said she was also considering running for mayor in the northern Italian town of Monza.
"I would make Monza an exciting town! It has a lot of potential. If the Royal Villa was turned into a luxury casino, for example, the town council would have loads of money," she said.
The ex-porn star has sparked controversy because she will soon be eligible to claim a parliamentary pension – despite serving as member of parliament for just five years – while Italy cuts back to stave off a vast debt crisis.
Italy row over ex-porn star's pension rights
Cicciolina to get €39,000 a year for serving one term as an MP in Italy's Radical party
She is famed for being the first woman to uncover her breasts live on Italian television, for recording a song entirely about the male organ, and for offering sex to Osama bin Laden (in return, she said, for giving up terrorism).
But now Ilona Staller, better known as Cicciolina, is the unlikely centre of a bitter row over the cost to ordinary Italians of the perks enjoyed by their country's tens of thousands of politicians. It emerged on Monday that the Hungarian, who starred in almost 40 hardcore pornographic movies, will soon be enjoying a €39,000-a-year (£34,000) pension, provided by the taxpayers of her adoptive homeland.
The stipend, which is for life, is her reward for labouring as a member of parliament for all of five years, from 1987 to 1992. Staller was elected for the libertarian Radical party and sponsored a number of mainly sex-related bills, including one to set up "love parks and hotels".
Her entitlement is no different from that of any other one-term politician in Italy. But their pensions have come under resentful scrutiny at a time when politicians are seeking painful sacrifices from the rest of society to prevent a Greek-style debt crisis: last week, parliament gave final approval to an austerity package that includes an increase in VAT and provision for big cuts in income tax allowances.
Commenting on news of Staller's pension on the website of the daily Corriere della Sera, one reader said the country's politicians "got rich doing almost nothing" and cared little about "people who work: people who often struggle to make ends meet and pay their taxes by doing real work".
But the former porn star, who will start to get the pension in November when she turns 60, told the Guardian: "I earned it and I'm proud of it." She said that during her five years in parliament she had tabled 12 bills including measures to introduce sex education in schools, give prisoners conjugal visits and ban vivisection.
None had made it on to the statute book, but in those days, she said, it required a couple of parliaments to get bills passed. "All politicians who are ex-members of parliaments get pensions for life and I think it is fair that I should too," Staller said.
According to one recent estimate, Italy's cohorts of politicians cost the taxpayers almost €1.3bn a year. With four levels of government – national, regional, provincial and municipal – the country has an inordinately large number of elected representatives.
But that has not stopped them from giving themselves a distinctly comfortable lifestyle. According to the Italian parliament website, the gross salary of a member of the lower house is €140,000 a year plus an attendance allowance of up to €42,000 and a contribution towards expenses of up to €63,000. They are also entitled to free public transport, free air and sea travel within Italy and exemption from motorway tolls.