Airline sparks outrage after scantily-clad models put on show
A low-budget Vietnamese airline was fined Tuesday by aviation officials after scantily-clad models put on a sexy show for the country's under-23 soccer team.
Last Sunday, the team was returning from China after losing to Uzbekistan in the Asian Cup but was celebrated with an in-flight lingerie show on a Vietjet Air plane, Reuters reported.
Pictures of the players with the models went viral online, drawing widespread scrutiny from social media users.
"Who let these escaped chimpanzees on the plane welcome home the under-23 team?" somebody wrote on Facebook.
The Vietnamese airline has been in hot water before for making flight attendants wear sexy clothing during a flight, and for risqué advertising.
The airline's president Nguyen Thi Phuong Thao, who is also the country's first female billionaire, apologized in a statement on the company's Facebook page and wrote that the show was unplanned.
"This was an improvised performance by the logistics team that was not part of the company's program," Thao wrote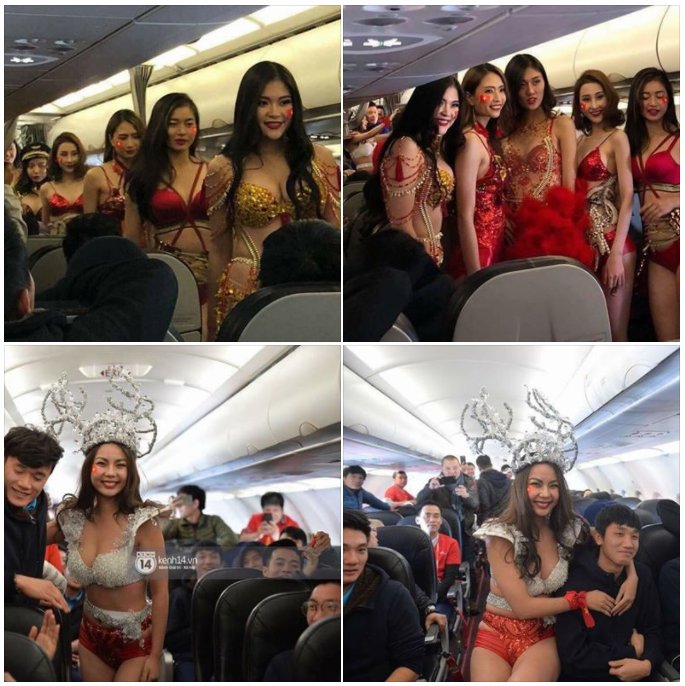 A while ago,
Flight attendant 'spices up' the preflight 'sexy' safety demonstration
DALLAS, Texas – Let's face it – those preflight safety demonstrations that tell you how to buckle and unbuckle your seatbelt are pretty….well….boring.
Unless you happened to be on a recent Southwest Airlines flight from Dallas to Las Vegas and Nicholas Demore was your flight attendant.
As his colleague narrated the safety spiel, Demore put his own sassy, sexy spin on "what to do in case of an emergency."
Pay particular attention to the life vest portion of the briefing. And also to his poor fellow flight attendant who truly had a hard time not losing it to laughter as she narrated his "performance."
WHITE FEMALE 'OFFENDED' BY AIR ASIA FLIGHT ATTENDANTS SHORT SKIRTS…
REALLY? NOT 'EMPOWERING' THEN?
Dr. June Robertson said she 'felt very offended by the extremely short skirts these females wear on Air Asia'.
A New Zealand woman has complained about seeing the breasts and underwear of Air Asia flight attendants, saying their uniforms are ruining Malaysia's reputation.
Dr June Robertson from Wellington has written a letter to Malaysian senator Hanafi Mamat which was posted to Facebook on Tuesday.
In the letter, Dr Robertson said she 'felt very offended by the extremely short skirts these females wear on Air Asia'.
'I found it quite disgusting myself as not everyone appreciates this.
Source: 'I found it quite disgusting': Passenger writes open letter to Malaysian government complaining about Air Asia's revealing uniforms and 'short skirts' 
Meanwhile,
ALASKA AIRLINES FLIGHT ATTENDANTS NEW UNIFORM – BY HIGH-END DESIGNER LULY YANG…I PREFER AIR ASIA ?
A high-end ballgown designer has swapped the catwalk for the runway after creating new uniforms for Alaska Airlines staff.