Distinguished Sex Scandals Of The Week
1. University Of Michigan Teaches 'Virtues' Of Sex Between Men And Boys
The University of Michigan have come under fire for teaching students the 'virtues' of sexual relations between adult men and young boys. 
An event hosted by the University of Michigan's Institute for Research on Women & Gender on Friday encouraged students to celebrate the history of "pederastic" relationships.
Breitbart.com reports: The event, which is called "Pederastic Kinship: Deidealizing Queer Studies," will feature Emory University professor Kadji Amin. The lecture will focus relationships between adult males and younger boys.
The event description describes modern pederasty as "sexually, ethically, and politically dubious" but goes on to analyze the role it played for French author and activist Jean Genet.
To identify a relational form as "queer kinship" is to implicitly dignify and redeem it. What are the limits of such redemption? This talk tests the boundaries of the discourse of queer family by investigating a sexually, ethically, and politically dubious kinship form: namely, modern pederasty.
Pederastic kinship names the kinship function of many intergenerational modern pederastic relationships. Its shape is discernable within French author and activist Jean Genet's (1910-1986) life practices of affiliation, including his habit of introducing himself into the domesticities of heterosexual couples, his practice of financing the heterosexual households of his younger male lovers, and his fantasy of himself as the adopted foundling of the Black Panther Party.
Pederastic kinship is a forgotten and uncomfortable precursor to gay and lesbian "chosen" and nuclear family that restores power and inequality to overly idealized imaginaries of queer kinship.
According to most definitions, pederasty is defined as sexual relations between two males, one of which is a minor.
Next,
2. NYPD Refused To Detain 1,526 Immigrant Pedophiles And Murderers
The NYPD denied requests by the Trump administration to detain 1,526 potential pedophiles and murderers – because they were immigrants.
The whopping number of detainer requests from Immigration and Customs Enforcement (ICE), working under Trump's orders, were gleefully ignored by the police department according to NYPD legislative affairs director Oleg Chernyavsky.
Nydailynews.com reports: New York law says the city can't hand prisoners over to ICE unless they've been convicted of one of 170 serious crimes, and the feds present a warrant.
"That speaks volumes to our intent as a city," Chernyavsky said. "It's important for victims of crimes, irrespective of their immigration status, to trust their police and to come forward and inform their police."
As police brass discussed the stats, ICE slammed the department in a series of tweets.
ICE recently arrested nine people in New York who were in the country illegally and released by the NYPD despite active detainers and pending criminal charges, the agency wrote. They did not specify what crimes the immigrants were charged with.
"The release of criminal aliens back on New York City streets continues to pose a dangerous risk to our communities," said ICE field office director Thomas Decker. "ICE will continue to dedicate more resources to conduct at-large arrests to ensure the safety of the law-abiding citizens of these communities."
But Bitta Mostofi, acting commissioner of the Mayor's Office of Immigrant Affairs, said the spike in detainers is part of an indiscriminate deportation dragnet.
"We're seeing a tremendous spike in overbroad enforcement from Immigration and Customs Enforcement," she said, adding there has also been a 40% spike in immigration arrests of people with no criminal history.
"The people they're seeking are essentially anybody, regardless of the nature of the crime."
Councilman Paul Vallone (D-Queens) worried the city's strict sanctuary rules may be preventing it from turning over people guilty of violent crimes.
"It's my hope that our hands aren't tied in a situation when you do have a violent offender, whatever their status may be, if they need to be arrested," he said. "For me, it's about safety."
Chernyavsky said if an immigrant is busted for a violent crime, they'll be prosecuted and jailed just like anyone else.
"If an individual currently committed a crime, that individual would be arrested, prosecuted and so on by New York authorities for the violation of law," he said. "Where the detainer law comes into play is how we're approaching cooperation beyond the crime at hand."
Councilman Brad Lander (D-Brooklyn) said cops were right to unanimously reject the requests.
"There's every reason to believe from what we know about those detainers that the vast majority of those individuals had done nothing serious," he said. "Honoring those detainers would have been becoming part of ICE's deportation machine."
3. Staunch Anti-Prostitute Congressman Busted Using Taxpayer Money to Buy Escort
When it comes to the government, in general, the notion of 'do as I say, not as I do' rings true through every level, from the parking transit officer to the president.
Hypocrisy is a function of the state.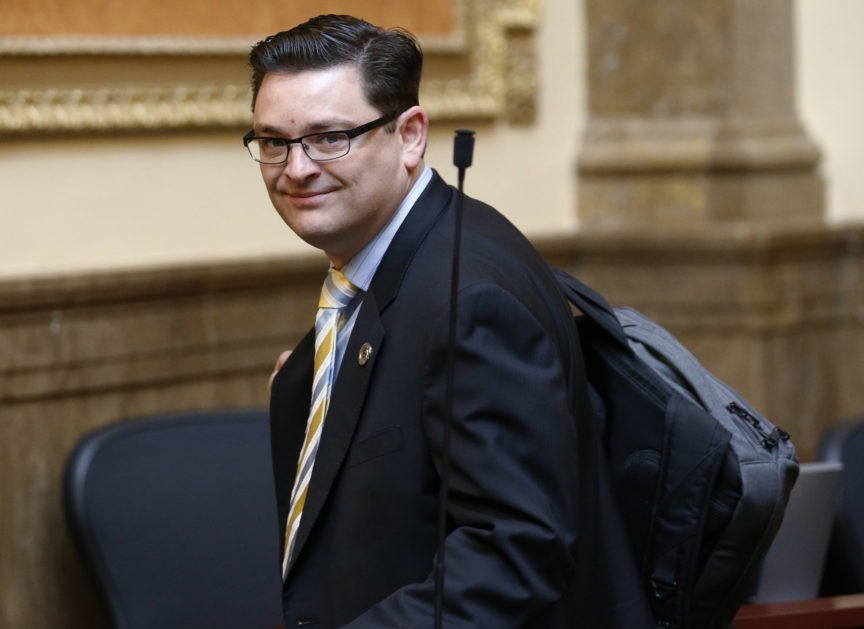 The citizens of the US are often reminded of this hypocrisy when members of the government commit such heinously criminal and hypocritical acts that they are cast out from their curtain of government protection.
The most recent case of government hypocrisy comes from a Utah lawmaker, who has been devoting much of his career to making sure sex workers suffer if they are caught by police. The staunch advocate of tougher penalties for prostitution, however, was just busted using taxpayer money to pay for hotel rooms to have sex with prostitutes.
The DailyMail.com quoted call girl Brie Taylor saying former GOP Rep. Jon Stanard paid her $250 for sex at least twice at the Fairfield Inn in Salt Lake City.
In one particular exchange, Taylor asks Stanard if she should bring any 'accessories' or 'toys', perhaps a 'corset', reported the news site.
Another telling sex scandal coming from from scientific genius …
4. Bill Nye Tells Young Girls 'Abortion Is Like Squishing A Bug'
Bill Nye the "Science Guy'" has been humiliated online by a real scientist after he was caught spouting pseudo-scientific nonsense, attempting to convince young girls that "fertilized eggs are not human".
"Women deserve more reproductive rights, not fewer," says progressive video site Big Think, which re-edited, re-formatted, and posted the video Nye originally recorded in 2015.
"And scientific facts should inform our laws, says Bill Nye The Science Guy," Big Think adds in the caption under the video.
Nye continues in the video that the notion that a fertilized egg is human reflects "a deep lack of scientific understanding." He claims that human life does not occur until the fertilized egg is implanted in the wall of the mother's uterus.
"You literally don't know what you're talking about," he adds.
National pro-life leader David Bereit, however, has recorded a response to Nye in which he challenges the "Science Guy's" actual scientific knowledge.
Despite naming himself the "Science Guy", Bill Nye does not actually hold any qualifications in science. As such, David Bereit, a real scientist, was able to deliver the brutal beatdown that Bill Nye so richly deserved.
Bereit, who received an undergraduate degree in biomedical science and had experience in the medical science field before becoming a pro-life activist, quotes from the American College of Pediatricians:
"The predominance of human biological research confirms that human life begins at conception/fertilization. At fertilization, the human being emerges as a whole, genetically distinct, individuated zygotic living human organism, a member of the species Homo sapiens, needing only the proper environment in which to grow and develop.
"When a human egg is fertilized by a human sperm, a new human being is created," Bereit, an advisor for Students for Life of America, summarizes. "That is scientific fact."
He further takes Nye to task over his view that human life requires implantation in the uterine wall.
"If you really believe that, you would clearly oppose abortions occurring after implantation, which is nearly all abortions," Bereit asserts. "Instead, you went on to advocate for abortion and condemn those of us who work to actually protect those lives implanted in their mother's uterine walls."
Bereit further challenges Nye and other progressives like him on his hypocritical statement, "You can't tell somebody what to do."
"Wasn't that exactly what your video did?" he asks Nye. "You told us to disregard scientific fact about the beginning of human life; you told us to not pursue life-saving laws."