I found some secret society papers in my great grandpa's paperwork. Great Grandpa was an Italian immigrant living in Newburgh, NY. He made it to at least the third tier of metaphysical lessons. One document is titled "The Code of the Nazarene" and discusses the whereabouts of Jesus during the "missing" years of his story. Most of the paperwork has dates of 1933-1936.
What types of secret societies would be open to immigrants (and presumably Catholics)?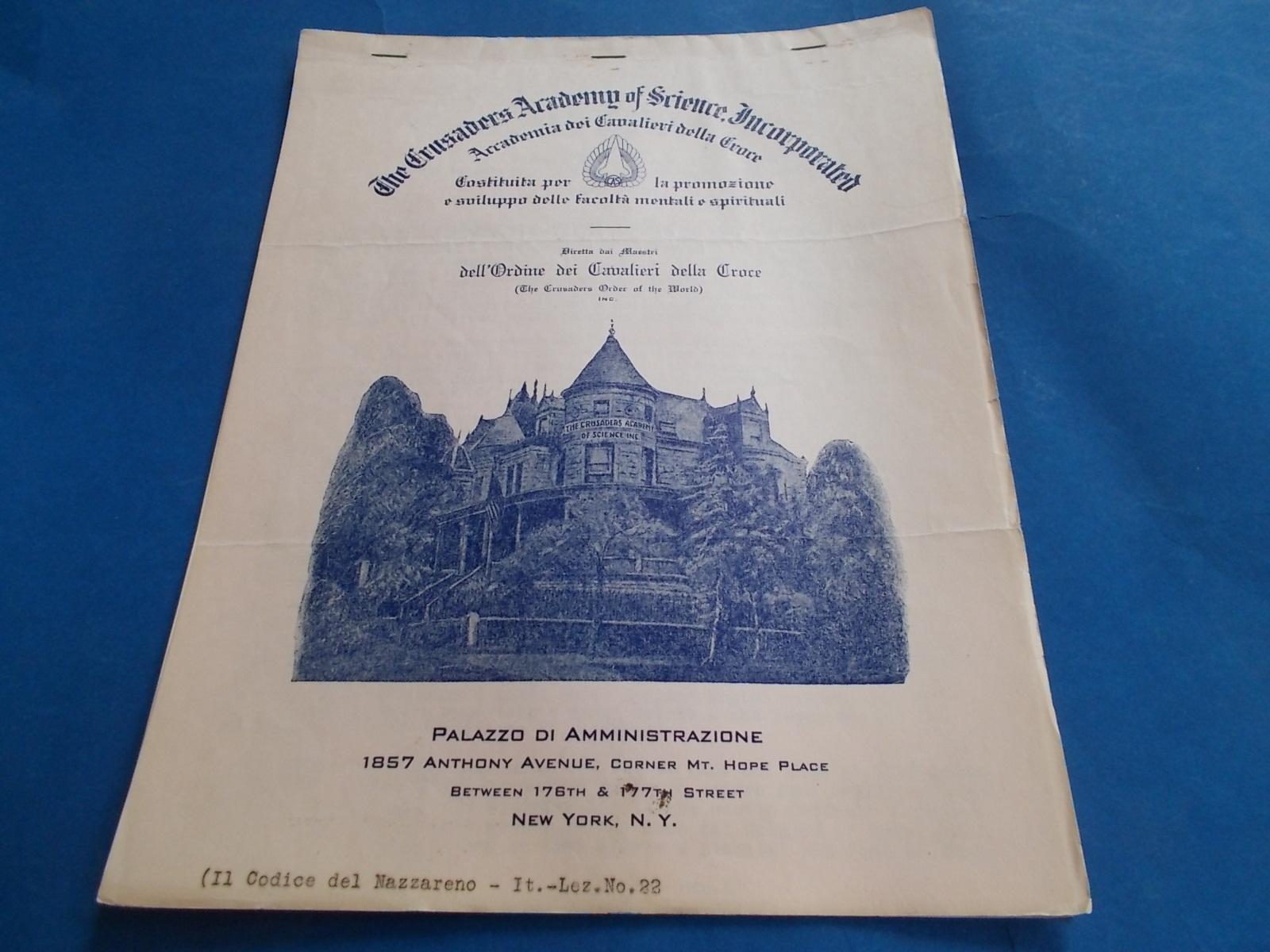 From what I can gather from google searches the Crusader order of the world seems to be an offshoot of a masonic society ( or he just claimed to be one) founded by Gaetano Russo in the early 1930s. After taking the rather grandiose title of Director General of the Crusades Order he published a number of articles having to deal with metaphysics and "Transychology" (a word I'm fairly certain he made up). Someone with more of an occult background might be able to shed light on the these theories. I would be tempted to suggest rather then bring apart of this order your grandfather may have just picked up and kept some primed tracts of theirs. I can't seem to find much more then that and as sources here need to be in depth I'm hesitant to link abebooks and amazon links. I would suggest scanning and uploading the papers to help with tracking down more information. If during the upload you hear or see unmarked black helicopters I would suggest reconsidering it.
Now to the second part of your question which is easier to answer. The most stereotypical secrets society for membership during that time would have been the Freemasons. However joining as a catholic presented a number of issues. The church hierarchy since 1738 had propagated a ban on membership in the Freemasons. Pope Clement XII had stated that members were "content with [a] form of natural virtue, are associated with one another" by oaths with "grave penalties" "to conceal in inviolable silence whatever they secretly do together." These associations have aroused suspicions that "to join these associations is precisely synonymous with incurring the taint of evil and infamy, for if they were not involved in evil doing, they would never be so very averse to the light [of publicity]." During the time period stated under catholic law (1917 CIC) members of the Freemasons were excommunicated, deprived of marriage in the Catholic Church, as well as various other punishments. Also even owning books suggesting the Freemasonry and the Catholic Church were not able to coexist was prohibited. The Church was against any society that held its members "in secret bondage" (asking its members to hold secret information from church and state courts). Besides the Freemasons the church in its time condemned its members from associating with the the Carbonari (an Italian unification society), the Odd-Fellows (an English fraternal group), the Knights of Pythias (an American fraternal group which actually revived its charter from congress), the Sons of Temperance, and many other societies that meet in secret and advocated change in the church or state or even just had secret meetings.
However with many of these societies offering various charitable and health benefits and with the discontent being locked out of them was creating Father McGiviny created the knights of Columbus in 1882. This society while being both Catholic in nature and lacking secret meetings this was allowed by the church.
While there were numerous fraternal orders that your grandfather could have joined the issue really comes to the fact that as a Catholic his faith laws would have created issues in him joining any of the secrets societies of the era as the were strictly prohibited.
Ridley, Jasper (2001). The Freemasons: A history of the world's most powerful secret society (1st U.S. ed.). New York:
http://www.vatican.va/roman_curia/congregations/cfaith/documents/rc_con_cfaith_doc_19850223_declaration-masonic_articolo_en.html