Crypto Revolution: AZ Senate Passes Bill Officially Recognizing Bitcoin as Money
Arizona — Last year, the state of Arizona went after the federal government's attack on gold and silver by eliminating the capital gains taxes on precious metals. This paved the way to deal a massive blow to the Federal Reserve and end their monopoly on money. While the precious metals move was certainly noteworthy, the legislation passed this month by the Arizona Senate is nothing short of revolutionary as it officially recognizes cryptocurrencies as money by allowing residents to pay their taxes in it.
Arizona Senate Bill 1091, titled Income tax payments; bitcoin, was introduced to the Senate on January 10 and after going through several committees, on Feb. 8, 2018, it passed. It will now make its way to the House.
According to the bill's text, it specifically names bitcoin and litecoin, as well as "any other cryptocurrency" recognized by the department as official forms of payment.
After the state accepts the cryptocurrency, it will then convert them to US dollars, according to the legislation.
THE DEPARTMENT SHALL CONVERT CRYPTOCURRENCY PAYMENTS TO UNITED STATES DOLLARS AT THE PREVAILING RATE AFTER RECEIPT AND SHALL CREDIT THE TAXPAYER'S ACCOUNT WITH THE CONVERTED DOLLAR AMOUNT ACTUALLY RECEIVED LESS ANY FEES OR COSTS INCURRED BY THE DEPARTMENT FOR CONVERSION.
The bill now moves on to Arizona's House of Representatives.
If the bill passes in the house, it will become adopted and Arizona would become the first state in the U.S. to accept cryptocurrency tax payments beginning from and after December 31, 2019, as stated in the bill's text.
Referring to the tax bill, Arizona State Republican Rep. Jeff Weninger, told Fox News:
"It's one of a litany of bills that we're running that is sending a signal to everyone in the United States, and possibly throughout the world, that Arizona is going to be the place to be for blockchain and digital currency technology in the future."
"The ease of use, being able to do it in the middle of the night, being able to do it at home while you're watching TV," Rep. Weninger said. "I think in a few years this isn't even going to be a question."
One state could allow you to pay your taxes in bitcoin?

Arizona bill among others that could lead the way in how
governments view digital 'currency'

Lawmakers are divided. What are your thoughts?
Should bitcoin be allowed to be used for taxes/considered a currency?@FoxNews pic.twitter.com/uMfc9qhMDs

— Charlie Lapastora (@charlielap) February 7, 2018
Jack Bitlis, who owns Tag Employer Services also spoke to FOX News, noting that the blockchain and cryptocurrencies are the future. Bitlis stands by his word too as his payroll company allows employees to receive their paychecks through bitcoin and to invest part of their 401(k) into bitcoin.
"We're living in just a hugely interesting time and, really, we just want to be a part of it," Biltis said. "We just know that we could be, as Arizona's chosen to be, at the forefront of this time and encourage these new technologies. That's just an exciting place to be."
Naturally, there are some less than optimistic lawmakers in Arizona who are applying Fear, Uncertainty, and Doubt (FUD) on the legislation, saying bitcoin could crash.
"If we had a bill that allowed people to pay their taxes in bitcoin directly, that puts the volatility burden on all other taxpayers because it would mean that that money goes to the state and then the state has to take the responsibility of how to exchange it," Arizona State Senate Minority Leader Steve Farley said.
Speaking like a true shill of the Federal Reserve, and ignoring the fuvolatilityility of the US dollar, Farley followed up his FUD by saying, "these are American dollars. They're good enough for me. They should be good enough for anybody else who pays taxes in this country."
Countering Farley's negativity and unfounded fear, however, Biltis noted, "It's always a little scary and thrilling at the beginning, it was with anything (including) the Internet…The world is going to look so different in 20 years and the people that are going to be truly successful are the people that embrace it now and are on the leading edge of that curve."
As for now, we are crossing our fingers that this bill passes the house and paves the way for a crypto-revolution.
After that, we just need to figure out how to stop the state from taking our tax dollars in the first place.
Related: –
Venezuela Issuing "Petro"
Oil-rich Venezuela is officially joining the cryptocurrency craze. President Nicolas Maduro has announced the date for the pre-sale of a new "petro" cryptocurrency.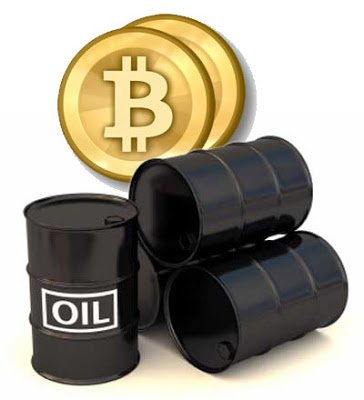 The pre-sale date is February 20, and the country plans to replenish its depleted budget.
"This is the moment to accelerate the entry of the petro, to have faith in what we've created and in the technological and intellectual capacity of our country," Maduro said on state TV, as quoted by Bloomberg.
"The petro will have a great impact, in how we access foreign currencies for the country and in how we obtain goods and services that we need from around the world."
The petro cryptocurrency will be divisible into 100 million units. The units will be called the mene. It will be backed by the country's vast oil reserves.
As Reuters reports, the Venezuelan government has been recommended to sell $2.3 billion in a private offering, with up to a 60 percent discount, in mid-February.
Critics have said that the petro is a de facto issuance of government bonds, and will face sanctions from the United States like other Venezuelan assets.
The US has already warned that "the petro digital currency would appear to be an extension of credit to the Venezuelan government."
By issuing the petro, Venezuela plans to overcome the biggest financial crisis in its history that has lasted for the last four years and resulted in a devaluation of its national currency, the bolivar. Venezuela also wants to become a hub for blockchain technology for emerging economies… More
DASH, LITECOIN GAIN USAGE ON DARK WEB IN FAVOR OF BITCOIN
'Litecoin and Dash will take their place next to Bitcoin as the everyday payment currencies of the dark web'
While Bitcoin has gained mainstream popularity in recent months, it's lost favor with a certain group of users: criminals. People paying for illicit services are moving to alternative cryptocurrencies.
According to a study conducted by cybersecurity firm Recorded Future, users of the dark web are starting to move away from Bitcoin and opting for options that improve upon Bitcoin's functionality. Litecoin and Dash have emerged as two of the biggest competitors.
The study found cyber criminals began growing frustrated with Bitcoin in 2016 as the digital currency started to gain value and in turn saw its transaction fees increase and processing speed slow down.
"Bitcoin payments have become economically infeasible, because the subsequent cost of transaction increased ten-fold, sometimes as much as 30 percent of the smaller payment amounts," researchers at Recorded Future wrote… More
JPMORGAN'S "BITCOIN BIBLE:" CRYPTOCURRENCIES ARE HERE TO STAY
Volatility of digital currencies prompted further understanding
JPMorgan Chase (JPM) CEO Jaime Dimon has sure come a long way on his bitcoin stance — by first calling the cryptocurrency a "fraud" to saying "blockchain is real" to now releasing what some are calling the "Bitcoin Bible" for investors — all in less than five months' time.
According to the report, the "extremely rapid growth" and "falls" of various digital currencies over the last several months have forced not only JPMorgan Chase but all market participants to closely monitor and understand this new market… More