The Bloodbath
STUDENTS PREDICTED FLORIDA HIGH SCHOOL MASSACRE BY EXPELLED STUDENT NICOLAS DE JESUS CRUZ
Matthew Walker, a 17-year-old student at the school, told WFOR-TV that all his classmates 'knew it was going to be him.'
'A lot of people were saying it was going to be him,' he said. 'A lot of kids threw jokes around saying that he was going to be the one to shoot up the school. It turns out that everyone predicted it. That's crazy.'
'He was going class to class just shooting at random kids,' he said. 'Everything he posts (on social media) is about weapons. It's sick.'
'We were told last year that he wasn't allowed on campus with a backpack on him. There were problems with him last year threatening students and I guess he was asked to leave campus.' 
Former student Nicolas de Jesus Cruz, 19, entered Marjory Stoneman Douglas High School in Parkland on Wednesday armed with an assault rifle and began shooting just after 2pm.
Broward Sheriff Scott Israel confirmed that 17 people had been killed and dozens more were injured.
Cruz was armed with at least one AR-15 rifle and had 'multiple magazines' when he stormed the school, according to the sheriff.
The teenager had been expelled from the school for unknown 'disciplinary reasons'. Authorities have already started dissecting his social media accounts and reported that some of things he had been posting was 'very disturbing'.
Footage found online shows students being evacuated out of Marjory Stoneman Douglas High School in South Florida where at least 17 people died and dozens more were injured.
***Warning! Graphic Content Below***
One student is seen being carried out of the classroom by police officers and another person is laying in a pool of blood.
As the students are escorted through the hallway and out the exit, they pass multiple bodies on the floor.
In the footage below, SWAT enters a classroom shouting, "Hands up!" and telling students to put their phones away.
Raw footage of the shooter's arrest can be seen below.
What do folks say?
"The NRA is essentially a terrorist-sympathizing organization now"
"The Republican gun laws are worse than North Korea's human rights abuse. How many schools do they shoot up? The GoP has more blood on its hands than Kim Jung Un."
"Think about the gun loving trump supporting parents who will be burying their kids in the next week or so. They can wear their MAGA and NRA hats to the funerals."
"Conservative voters are a threat to the survival of all life on planet Earth."
"You voted republican, you are a f**king terrorist, enabling the killing of children and church goers."
"Most law abiding citizens would give up guns. Because, remember, they're law abiding"
Marco Rubio Got $3,303,355 From NRA But Cried Wolf Over Florida School Shooting
The New York Daily News reports that over the course of his career as an elected official, Rubio has received $3,303,355 from the NRA, plus an "A+" grade, and during the 2015-16 campaign cycle, he accepted $90,205 in contributions from gun rights groups.
Several people tweeted "$3,303,355" to Rubio, adding comments like, "You chose money over dead kids" and "While you're praying, also pray for a spine to stand up to the NRA that has bought you off so effectively with their blood-money."
"You take millions from the NRA and voted against outlawing the weapon used today (AR-15s)," Catherine Garcia tweeted. "How about this time you skip the thoughts and prayers and actually do something to keep our children from being slaughtered in their classrooms. Signed, a Florida voter."
Chelsea Handler: NRA-Funded Republicans Have 'Blood On Hands' after Florida School Shooting
While news was still coming in on the heinous Marjory Stoneman Douglas High School shooting Wednesday, Chelsea Handler lashed out at Republicans who have received funding from the NRA, claiming they have "blood on [their] hands."
What does POTUS says?
Trump: 'So many signs that Florida shooter was mentally disturbed'
'Must always report such instances to authorities, again and again!'
Trump to Tackle 'Mental Health' Issues Following Florida School Shooting
'It is not enough to simply take actions that make us feel like we are making a difference. We must actually make that difference'
Family Says Florida School Shooter Autistic, May Have Been on Medication
Family members claim suspect 'was on medication to deal with his emotional fragility.'
Alleged Shooter "On Meds": Why SSRIs Are Suicide Murder Pills
Once again, a school shooter is on anti-depressants.
Mainstream media will never talk about THIS aspect of virtually every shooting because Big Pharma is their sponsor.
What do GOP supporters say?
Instead of controlling guns, they proposed more guns …
GOP thinks more gun is the answer?
Dr. AWR Hawkins-Florida School Shooting: Time to Arm Teachers for Self-Defense
The heinous attack on Marjory Stoneman Douglas High School demonstrates anew the necessity of arming teachers so they can defend students from determined criminals who come to campus to do harm.
School resource officers are appreciated and are part of security, but they are only a part.
For example, during a February 14 Fox News broadcast, Broward County School Superintendent Robert Runcie said there was a regular police presence–i.e., school resource officers–at Marjory Stoneman Douglas High. He said there are normally two such officers. Yet the events of February 14 proved that a determined criminal can find a way around those officers and when he does, what is the solution?
Are teachers to join their students and shelter in place while dialing 911?
Are they to press desks against their classroom doors and arm themselves with chalkboard erasers, books, or rulers? More
Florida School Shooting: Video Confirms Multiple Shooters, Co-Ordinated Attack
Students Report Multiple Shooters & Mass Shooting Drill at Florida High School
The mainstream media narrative about the Florida school shooting has been debunked by explosive eyewitness interviews that confirm there were multiple shooters involved in a co-ordinated attack.
The mass shooting in Parkland, Florida is one of the worst school shootings in U.S. history, with at least 17 confirmed dead. However mainstream media has chosen to push a false narrative in order to further their agenda and sow organized chaos in the United States.
They have presented the shooter, Nicholas Cruz, as a teenage misfit who supports Trump, hates Muslims, and likes wearing his MAGA cap in public. Mainstream outlets are using this "event" to tell their audience that "Trump supporters are the face of terrorism in the U.S. today."
Unsurprisingly, they are also using the "event" to call for a ban on guns.
But a closer look at what happened in Parkland, Florida reveals a very different narrative to the one mainstream media are pushing. Eyewitness reports from inside the school, claiming there were multiple gunmen involved in a co-ordinated attack, are being hushed up.
After telling a KHOU-TV reporter that she spoke to Nicholas Cruz after the attack, former student Alexa Miednik says that mainstream media's version of events does not stack up. She was walking with Cruz just after the gunfire. He was unarmed. "The shots were coming from the other side of the building. So there definitely had to be two shooters," she said.
…As I was going down the stairs I heard a couple of shots fired, everyone was freaking out – there was a gun, and as we were walking – the whole class together – I actually was speaking to the "suspect" [she even did air quotes] and as I was speaking with him, he seemed very… I don't know what the word is I want to say… but he was very troubled in middle school and I joked to him about it and said "I'm surprised you weren't the one who did it."
And here's a KHOU 11 reporter discussing the interview:
We just spoke with a former student, Alexa Miednik, she actually walked down the hall with the accused shooter, Nicholas Cruz, after she heard shots fired. She said, "Hey, Nicolas," – this is what she told me on camera… – "Hey, I just heard shots fired and I'm surprised it wasn't you. Just kidding." He had the reaction "What?" and then they parted ways.
She said "I heard more shots after that." She thinks there was a second shooter.
Another student also made a reference to "other shooters:"
The internet is also being scrubbed of any evidence Nicholas Cruz may not be the young man mainstream media is saying he is. Social media giants are assisting in this cover up. Within one hour of the attack, Facebook-owned Instagram deleted one of the two Instagram accounts belonging to Nicolas Cruz.
One of Cruz's accounts displayed a fascination with Islam and Islamic extremism; the other one showed Cruz wearing a MAGA cap and contained photos of him killing toads.
If you guessed that Instagram removed the one related to Islam while leaving up the profile of Cruz wearing the MAGA cap, you got it right. Why would they remove that one but keep the MAGA cap account up for longer? To control the narrative as this story develops. Unfortunately for them, users captured screenshots of both accounts.
In a situation reminiscent of the Las Vegas shooting, the scores of wounded and dead are being used by the elite to further their nefarious agenda.
Anybody who looks into the information available to them on the internet will arrive at the same conclusion. Unfortunately anybody who relies on mainstream media for their information will be force-fed a very different conclusion.
The questions must be asked: why is the mainstream media covering for the real perpetrators of the crime? Why are they attempting to rewrite Nicholas Cruz's past and erase his real political interests?
The answers are simple. The corporate media, controlled by a small, elite oligarchy, is operating on behalf of the New World Order, attempting to mislead the public into believing their enemies are their friends, and their friends are their enemies.
There is an active campaign to sow division and create chaos in the United States. Organized groups are working on behalf of global organizations with the most nefarious of goals. We need to wake up and stop believing everything fed to us by the mainstream media. They have proven themselves completely unreliable.
We need to stop hiding from the truth.
According to police, there was only one shooter—Cruz—who is currently in custody.
WHO IS NIKOLAS CRUZ?
ABC 7 reports:
A family member told ABC News that Cruz was the adopted son of Roger and Lynda Cruz. He has a younger brother, and both of his parents are now deceased. The family member said Lynda Cruz died last year.
Cruz reportedly worked at a nearby Dollar Tree store. Employees told ABC News they are "shocked" by his actions, and described him as loyal and responsible, saying he "would arrive to work a half hour early."
The Dollar Tree manager said Cruz was transferred from the store near the school to a different Dollar Tree, but he did not remember the reason why. He described Cruz as a nice kid who was always in a good mood.
Law enforcement sources told ABC News Cruz was able to leave the school by blending in with other students who were trying to escape.
According to Fox News reporter Trace Gallagher, Nikolas Cruz, the deranged gunman who shot dead at least 17 people at Marjory Stoneman Douglas High School in Parkland, Florida Wednesday, reportedly followed resistance groups on social media. 
Gallagher: "We should also point out that we have scoured his social media footprint. We have mentioned this before, but he was clearly obsessed with guns because he was attached and followed all types of gun groups, as well as resistance groups — the Syrian resistance and Iraqi fighters. Remember, we said earlier that he was actually involved in a chat room discussion, YouTube chat room discussion online about the building of bombs."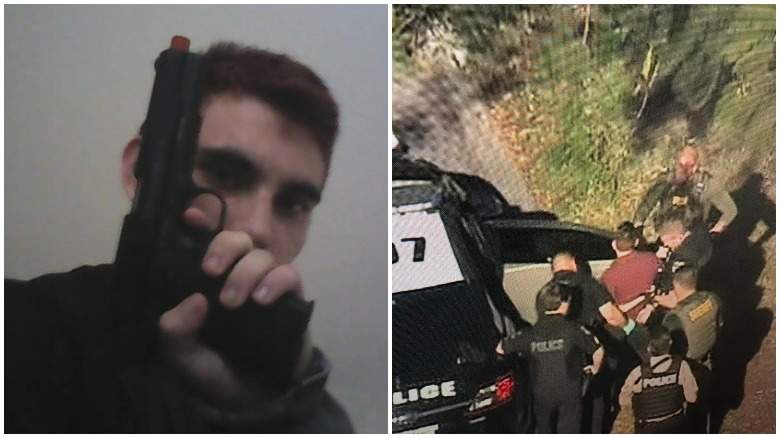 INSTAGRAM ACCOUNT SHOWS HIS SUPPORT FOR RESISTANCE GROUPS